GUEST BLOGGER:
My guest blogger today is my writer friend, J.D. Wininger. I first met J.D. online through mutual writing aquaintances, Katy Kauffman and her parents (Lighthouse Bible Studies). Later, we had the blessed privilege to meet face-to-face at an Enrich Conference. J.D. is a stellar writer and loves to share spiritual and biblical insight by way of lessons he learns while working on his ranch. You'll absolutely love God's truth he points out at "Around the Cross-Dubya," his delightful blog. Visit his site here. 
Please enjoy his guest blog and check out his bio below. You'll be so glad you did! 
Those Nasty No See Ums
By J.D. Wininger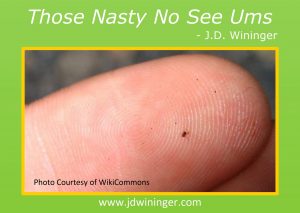 When April rolls around and days are warmer, they emerge; fleas, flies, ticks, gnats, skeeters, bark scorpions, snakes, and yes No See Ums. Smaller even than most midges, No See Ums are microscopic little blood-sucking biting flies (technically a midge) that pack a mean punch. While only the females bite you, it's disconcerting when you can feel something land on you, crawl across your skin, but you can't see them. Next thing you know, you feel a painful bite, which is really an injection, and then you itch like crazy.